Hat-trick for Pronto Direct, winning three awards!



PIXI Awards 2017 attracted 236 entries in 26 categories, from 11 countries: Australia, China, Hong Kong, Japan, Korea, Malaysia, New Zealand, Singapore, Taiwan, Thailand and Vietnam.
Third year in a row, Pronto Direct has been recognised at the PIXI Awards, winning a total of seven awards in the last three years in various categories. This year, winning 1st place in two categories, Brochures and Catalogues and 2nd place in the new 5th Colour category.
"This year's PIXI Awards have been a great opportunity for our Australian customers to showcase their commitment to innovation by presenting work that demonstrates how they have been pushing the boundaries in print. For Pronto Direct Pty Ltd to be awarded second place in the newly added 5th Colour Award simply proves how our partners are looking at the industry with innovative eyes," said Steve Green, Executive General Manager – Sales, Fuji Xerox Australia.

    To be recognised across the region as a standout in three categories is incredibly exciting for our team and of course our customers. Receiving two first place and a second place award in the Fuji Xerox PIXI Awards has enabled us to showcase the type of output we're now producing in an evolving market. This year, the 5th Colour Award category was added and we wanted to ensure we submitted a project that showcased the quality of work coming out of the Australian market for businesses around the country. For Pronto, our goal has been to produce bespoke products that showcase the capability of the solutions we've implemented and at this year's PIXIs we've been acknowledged for exactly that.   

  Geoff Davey – General Manager – Pronto Direct
Pronto Direct recognised 2 years in a row!

For the second year running, Pronto Direct has gone head-to-head with digital print users from Australia, Japan, South Korea, Malaysia, Singapore, Thailand, and China, attracting more than 250 entries. Once again, we've been rewarded for our commitment to excellence!
Claiming a 2nd place win in the much-coveted Direct Marketing category, we are thrilled that our 2016 entry will once again be recognised and showcased at Fuji Xerox Integrated Customer Experience Center (ICEC) in Bangkok.
Fuji Xerox says, "Submissions for the PIXI Awards 2016 were evaluated based on the following criteria: print quality, appropriate use of digital technology, innovation, business effectiveness, and overall aesthetics – demonstrating a good balance between the quality of the digital prints and the ability of the Fuji Xerox's solutions to deliver the desired results."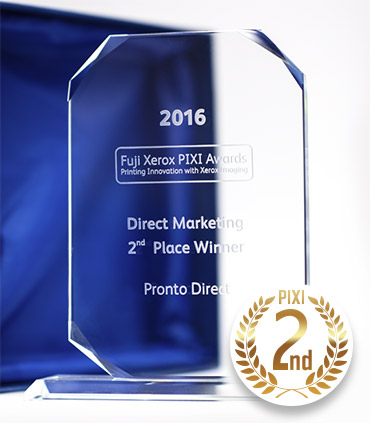 Pronto Direct honoured with two 1st place wins!


The 2015 PIXI awards (Printing Innovation with Xerox Imaging awards) saw some of the region's best digital print users line up to compete for top honours in over 23 categories of print innovation.
Facing stiff competition from Australia, Japan, South Korea, Malaysia, Singapore, Thailand, and China (including Hong Kong and Taiwan), Pronto Direct is immensely proud to have scooped up two of the 1st place awards – as the 2015 PIXI Winner for Leaflets and Direct Marketing.

    Winning these awards is a fantastic result!  Not only do they acknowledge and applaud our team's commitment to excellence, but they also afford our clients with an immediate confidence and trust that we can deliver a solution that's tailored to them, can expand with changing needs, and can enhance the quality of their brand.   

  Geoff Davey – General Manager – Pronto Direct

    As a 25-year veteran of digital print, Pronto Direct is absolutely committed to providing you with the best service we can, and we will always be exploring, collaborating and innovating so that we achieve the best results for you.